Creative Director | Restaurant & Retail Store Design | Brand and Product Development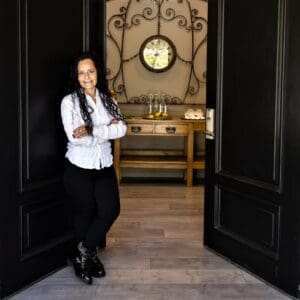 Retail and Restaurant Creative Team leader, Deborah, was born in Italy and raised in Silicon Valley, CA. Deborah has business planning, visual merchandising and market strategy in her DNA.
With grandparents who had owned a parfumerie in Italy, a mom who attended law school and a dad juggling up to 3 jobs, Deborah grew-up knowing how to manage after-school positions. Always busy and following passions, these ranged from working in accounting and finance at a Silicon Valley technology start-up company to sales at Emporium and Bloomingdale's, all of which contributed to on-the-job lessons in budgeting, strategizing, and commercial retail merchandising and display. Of her favorite positions, the one that allowed her to express her creativity the most was the retail display, store design, and spatial planning at her family-run home decor and vintage boutique… What had started as a part-time job eventually became her full-time passion.
Deborah became an integral contributor to the growth, success, and longevity of the now branded Maria's European LifeStyle℠ at ShopMarias.com® as their Creative Director.
Deborah's ideas also reached far beyond the scope of the family business. Thus was born DBAVisual. Over the years, Deborah and her team have had the opportunity to work with many clients and businesses. Each unique project allows her ideas to enhance everything from space planning and remodeling to commercial merchandising strategy and store design. She now has an extensive portfolio of projects including residential and landlord property upgrades, commercial office space planning and design, and restaurant planning and branding. Commercial projects also involved several "Pop-up" stores in Simon Malls (Stanford Shopping Center) and Federal Realty Investment Trust (Santana Row).
Throughout its lifetime, DBAVisual has become a friend to many small businesses and restaurants. Current projects include designing a new, modern private showroom and dining space for "Mayan Kitchen" in the heart of Silicon Valley. Deborah is always responding to clients' latest design dilemma, proposing color suggestions, or providing expert consultation on "the next season". Every day is dynamic and exciting and Deborah loves it!
Deborah can be reached at DBAVisual.com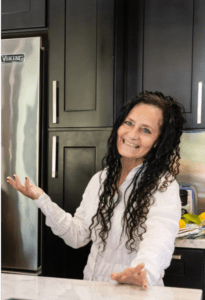 DBAvisual Creative Services
Retail, Restaurants, Spas, Hotels & Homes | Brand & Product Development | New Openings & Expansions
DBAvisual submission page